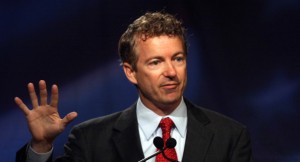 Senator Rand Paul, who many think will be a major candidate for president in 2016, made a number of campaign stops and even did some calling for Republican candidates. He sat down for an interview with Chris Ryan in Salem, NH. Their discussion covered a wide variety of topics. Sen. Paul was critical of the Clinton legacy and Barack Obama's policies. He was very outspoken about his potential 2016 rivals.
"If Bill Clinton was the CEO of a public company he would have been fired for his behavior in the White House." He described the Clintons as being "Yesterday's news" and that people were tired of their hypocrisy. He also used the Monica Lewinsky episode to dispute the Democrat claim that the Republicans have waged a war against women.
;
Senator Paul said that Barack Obama's arrogance is helping Republican candidates across the country and in New Hampshire. "People sense that the country is going in the wrong direction." He also discussed the racial problems in Ferguson, MO and how the Democrat party has let down the African-American community. Paul has a plan to lower taxes in places like Detroit in order to raise their economies out of poverty.
Before entering politics, Rand Paul was a practicing doctor of Ophthalmology. He is very concerned with how the Ebola Outbreak is being mishandled. Again he describes arrogance as a cause of the continuous misstatements and retractions by the CDC, Center for Disease Control, and the Obama administration. Paul feels that they have tried too hard to downplay fear while not being forthright about the seriousness of this disease and the ease with which it can be spread."The fact is that we are still learning about this disease."
Senator Paul has a Libertarian and Tea Party background. To win the presidency, he will have to find a way to reach people from outside these groups while keeping his base. When he was asked how he could lead while deconstructing the presidency, Senator Paul called for the Congress to take back the powers and checks and balances intended by the framers of the Constitution.